Commercial Water Damage Restoration in South Dallas
Business owners can get professional help right away following a property disaster in Dallas, Cedar Hill, Desoto, and surrounding areas. The commercial restoration techs at 911 Restoration of South Dallas are on-call 24/7/365 at 469-300-3781 to address your needs and ensure you get a Fresh Start. All techs are IICRC certified to help you handle: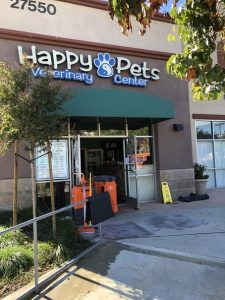 Commercial Water Damage
Commercial Fire Damage
Commercial Mold Infestations
Commercial Sewage Backups
Our South Dallas commercial restoration techs can reach your property within 45 minutes of an emergency call, any time of the day or night. Crews can help you if you are dealing with a disaster like a hurricane or a tornado. Contact us when you need:
Emergency Roof Repairs and Boarding Up
Emergency Water Extraction and Dehumidification
Emergency Packing Out and Inventory Storage
Water restoration Dallas can also help you after the emergency has passed. Crews will not consider the job finished until your business is returned to the perfect condition that you deserve. Get your business operational again quickly by contacting us for same-day property restoration services.
Techs can even help you handle mold infestations in Dallas. Let us perform a free visual mold inspection if you think you have a problem with fungal growth. Techs can locate mold no matter where it is hiding and begin mold removal right away, protecting your inventory, your property, and your customers. Let us address all of your property restoration needs in Desoto today. Call us at 469-300-3781 and see how we can help you. We provide you biohazard cleaning services in South Dallas.
What Are the Risks of Commercial Water Damage in South Dallas?
Water damage is a serious issue for commercial property owners. Excess water can lead to structural damage. It can also ruin your inventory, keep you shut down for an extended period of time, and allow mold to thrive in your property in Cedar Hills.
Fortunately, you can get same-day help with water damage restoration by contacting 911 Restoration of South Dallas. Crews can begin water damage restoration in South Dallas within 45 minutes of your emergency call, so you don't have to wait and worry about your property.
You can contact us following a hurricane, flood, pipe burst, or sewage backup. Water damage restoration techs can:
Use Water Pumps to Remove Water from Your Property
Get Rid of Moisture with Dehumidifiers, Fans, and Air Movers
Repair Structural Damage Caused by Excess Water
Check Your Property for Signs of Mold Growth
Any South Dallas water damage event can lead to mold growth, making a mold remediation Dallas inspection important after flooding. Let us check out your property and begin mold decontamination if crews spot any signs of fungal growth.
Techs can help you if you are dealing with a flooded basement, carpet water damage, a ceiling leak, or any other water damage event in your business. The faster you get help, the less damage your property will experience. Make sure you put yourself in good hands following a flood, pipe burst, or hurricane by contacting commercial restoration services in South Dallas pros today. Please call us at 469-300-3781
Can Property Restoration Techs Repair Damage from a Commercial Fire?
Some commercial properties are at a higher risk for experiencing fire damage than residential properties. Restaurants, bars, and nightclubs in Dallas may all be especially likely to experience a fire. However, any business could end up dealing with fire and smoke damage in Desoto.
The licensed, bonded, and insured commercial restoration pros at 911 Restoration of South Dallas can take care of any fire damage you experience. Techs have the training and experience to: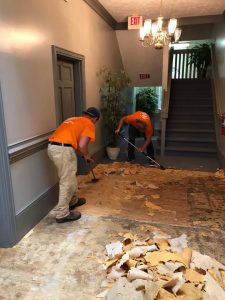 Remove Smoke, Ash, Soot, and Odors
Repair Structural Damage Caused by the Flames
Pack Out and Store Your Undamaged Possessions
Deal with Water Damage from Fire Hoses and Sprinklers
Check Your Property for Signs of Mold Growth
Fire cleanup in Cedar Hill can quickly return your business to the pristine condition that you deserve. Crews can also help you deal with puffback cleanup if the furnace in your commercial property malfunctions during the winter months.
It's important that your business reopen quickly after a commercial disaster, so you can get back to serving your customers. Here at 911 Restoration of South Dallas, crews will work quickly to ensure your property is operational, fully restored, and back to better-than-new condition after any property damage event.
You can count on our water damage restoration and fire in Desoto TX techs to work tirelessly for you. Our company puts your needs first after you experience property damage. Crews can handle water damage, fire damage, mold growth, and sewage backups quickly, so you can move forward with peace of mind in South Dallas. If you search best commercial restoration services in South Dallas, call us at 469-300-3781.