Sanitization Services and Deep Cleaning in South Dallas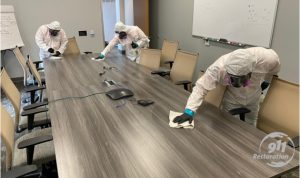 Businesses around Dallas are preparing to reopen as quarantine procedures related to the coronavirus ease. You may feel excited and unsure what to do next if you have a commercial property slated to get back to business. You can get back your peace of mind by focusing on ensuring your property is cleaned and sanitized with the experts at 911 Restoration of South Dallas. If you search best covid 19 cleaning companies in South Dallas, call us at 469-300-3781
Here at 911 Restoration, we are prepared to offer you disinfection solutions. Our sanitization specialists may be able to clean up your residential or commercial water restoration Dallas. We may be able to help you feel ready to reopen and get back to serving your customers. Our crews are:
Trained to follow sanitization procedures issued by the

CDC

and EPA

Able to reach your property within 45 minutes of your call

On-call 24/7/365

Armed with professional-grade sanitization supplies
We may be able to provide you with one-time sanitization services if you're interested in getting your property cleaned up in preparation for reopening. You can also contact us to set up a schedule for sanitization. The coronavirus is not gone from our area, so you may want regular cleaning and sanitization to feel comfortable as you operate your business. call 911 Restoration of South Dallas at our number 469-300-3781
Consider Your Options for Disinfection Solutions
The coronavirus is a major source of concern for members of our community in South Dallas. While businesses are beginning to reopen, we still have no cure or treatment for the virus. Therefore, it's important that we continue to focus on protecting our neighbors and limiting the spread of this disease. As businesses reopen, customers may still need to maintain social distancing.
It may also be important to focus on sanitization services in South Dallas. Routine cleaning may allow you to keep your property clean and sanitized. In order to sanitize your property, the CDC recommends cleaning areas with soap and water extraction Dallas first. After this initial cleaning, it may be appropriate to use a disinfectant approved by the EPA. Call us at 469-300-3781 and please allow us to offer you a free visual inspection. We provide covid 19 cleaning services ​in South Dallas.

The EPA has provided a list of disinfectants that may be effective against the coronavirus. You may also use some alcohol or bleach mixtures during the sanitization process in South Dallas. However, you do not have to handle sanitization on your own. You may reach out to 911 Restoration of South Dallas to get professional help on your side. Allow us to develop disinfection solutions designed to meet your unique needs right now.