Different Types of Commercial Fires & Fire Restoration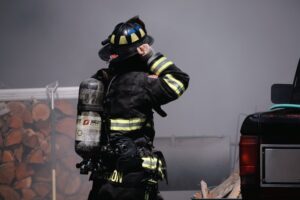 Commercial fires can be devastating. They damage commercial properties and can impact businesses, damage equipment, and cause injuries. However, while all fires are dangerous, they're not all the same. In fact, each fire is different and has its own risks and hazards associated with it. Different fires and their results even require unique approaches when it comes to fire restoration, as discussed later in this article.
Types of Commercial Fires
There are many different kinds of fire which can be classified into five different categories. These are categorized based on what fuels them, with each class of fire involving different materials.
Class A: Solids
Class A fires are the most common and are usually the result of solid combustible materials like paper, cloth, wood, trash, and plastic. Accidental fires fall under this category, with most fires caused by overturned candles and stray sparks.
Class B: Liquids and Gases
Class B fires are those that involve flammable liquids and gases including alcohol, gasoline, propane, paint, and petroleum grease. These are more dangerous than Class A fires and should not be extinguished with water since this can further spread the fire. Instead, foam, carbon dioxide, and powder extinguishers should be used to cut off the fire's oxygen supply.
Class C: Electrical Equipment
These fires involve electrical equipment and may be caused by faulty appliances, old wiring, outdated breaker boxes, and frayed electrical cords. They usually take place in industrial settings. Because water and chemicals can conduct electricity, these should be avoided. You should try and disconnect the power source use dry powder or carbon dioxide fire extinguishers to put out the fire.
Class D: Metals
Class D fires involve ignitable metals and are usually seen in commercial and industrial settings. They can be caused by metals like potassium, aluminum, potassium, sodium, and titanium when they're under extreme heat. Fires involving metals can only be put out with dry powder extinguishers.
Class K: Cooking Oils
These fires involve cooking oils, fats, and grease. Class K fires can start if oils and fats are left unattended on stoves. Using liquids like water to extinguish the fire can spread the flames, and so, this type of fire can only be put out with wet chemical extinguishers.
Types of Fire Restoration
Fires result in a lot of damage, including fire damage, smoke damage, and water damage. Therefore, fire restoration consists of everything from ventilation and soot removal to water extraction and deodorizing.
Pre-Cleaning and Assessment
Once fire damage restoration services reach your commercial property, they will first assess the damage and come up with a comprehensive plan to tackle repairs. Services like 911 Restoration of South Dallas even offer property owners free visual inspections so that they can get an idea of the damage and repairs needed. Emergency pre-cleaning is the first step in a thorough restoration.
Security and Repairs
Because fires can cause structural damage, this needs to be repaired before all else. Security can also be a major concern if windows and doors aren't in place or can't be closed because of the damage. Restoration companies perform structural repairs and even have board-up services to prevent your property from further damage and vandalism.
Ventilation, Cleanout, and Salvaging
Before restoration services can get to work, the property is thoroughly ventilated to get rid of soot and dust. Damaged items are also assessed to see if they can be salvaged or have to be discarded. All items that can be salvaged are set aside for further restoration.
Water Extraction and Water Damage Restoration
Unfortunately, fires don't just consist of fire damage. Putting out fires with hoses or sprinkler systems causes water damage. Not only does all the water have to be extracted, but thorough water damage restoration services also include drying and dehumidifying to prevent the formation of mildew and mold.
Debris and Soot Removal
Because soot can cause further damage if not addressed quickly, restoration services work hard to remove it from all surfaces, including walls, ceilings, carpets, air ducts, and even HVAC units. This limits soot exposure and protects you from adverse effects on your health. Larger commercial fires leave behind burned materials which are removed along with other debris to mitigate odors in the air. Shop vaccums are often used in order to completely remove all remnants of soot and dust.
Deodorization
Another consequence of fire damage is the unwanted smell left behind by smoke and soot. This requires thorough deodorization with air foggers and industrial strength fans and includes everything including deep carpet cleaning and air duct cleaning. All smoke-based odor is removed using industry-proven methods.
911 Restoration of South Dallas
Fire restoration is complicated and has many different facets. That's why trained and certified individuals are required to deal with fire damage and water damage restoration. The technicians at 911 Restoration of South Dallas are IICRC-certified and experienced in both fire and water damage restoration. In addition to removing all traces of debris and soot, we can ensure that all water damage is taken care of so that there's no risk of mold formation.
To make sure that your commercial property is to take care of as soon as possible, we're available for emergency services and are open 24/7. Call us at 469-300-3781 or fill out this contact form to reach our fire restoration experts, and we'll ensure that you get help within 45 minutes of reaching out!