How to Stay Safe Before, During, And After Winter Storms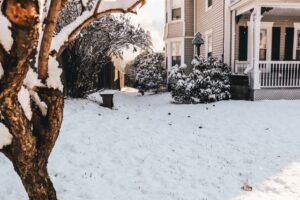 Commercial and residential spaces are prone to damage during the winter season, especially considering how Dallas broke records in the 2020 winter storms. This type of extreme weather can lead to water damage, fire damage, mold, and a range of other issues over time.
It is a good idea to be prepared for the season to ensure your own, family, and employees' safety by setting up crucial preparedness plans before, during, and after winter storms. This article will cover some critical points you will need to consider to be prepared for this winter season.
Preparing For The Winter Season
The biggest consideration for the winter season is ensuring your roof's integrity. You will need to keep a close eye on your snow-covered roof from the inside and out to make sure that snow itself or, when melted, doesn't seep into the roof – else, it could lead to water damage and mold.
Other considerations are listed below.
Before The Winter Storms
As soon as autumn begins, it would be best if you started getting ready for the winter season. You will most likely have a month or 45 days before the winter season hits you, so there's no rush. Usually, autumn lasts from September to November in Dallas.
Emergency Kit
Make sure you have a winter emergency kit, and it includes at least:
Rock salt or ice-melting materials to help you keep your sidewalk clear.
Snow shovel(s)
Heating fuel. Be careful with the type of fuel you choose to store, though, and how you store it. For example, storing gasoline in the house is a fire hazard, even with an air-tight container. If you have a wood-burning furnace, though, make sure you have enough supply of wood – stored away from fire sources.
Blankets to keep you warm.
Unfortunately, winter season fires are rather common. According to the NFPA, the US fire department responds to over 790 fires per year other than at Christmas. During the winter season, one out of five fires is because of home decorations.
Communication
Keeping your troops or family together during winter can be quite difficult, especially during a winter storm. Maintaining proper communication is key. Where you will meet in a storm, what you will do, and determining the emergency plan are crucial to ensure safety,
and this also includes communicating with disaster restoration services. In the event of a mishap or disaster, make sure you can quickly let them know that you are in trouble so that assistance can be dispatched immediately.
During the Storm
When the storm hits, keep a radio or TV on and look for key terms to help you gauge the circumstances and whether you need to implement the emergency protocols. Some terms to keep an ear out for include:
Freezing Rain – This type of rain creates a coating of ice on roads, walkways, and more. Power lines may also get disrupted.
Sleet – Rain and snow mix to moisturize the roads and become slippery. Black ice is a result of sleet.
Wind Chill – This is the temperature of the wind – not the actual temperature outside.
Winter Storm is when strong winds, snow, and rain combine to create a storm that freezes almost everything. Either leave the area or stay inside at all costs.
Winter Storm Warning – If a warning is issued, head home immediately. Usually, a winter storm warning is issued 24-36 hours before the storm reaches you.
Frost/Freeze Warning – This type of warning is issued if the temperature is likely to drop below freezing temperatures.
Carbon Monoxide Poisoning
As mentioned above, not every type of fuel is suitable for storing inside the home. The same goes for burning fuel. You will need to burn fuel during the storm, and almost all of them release carbon monoxide. According to the CDC, at least 430 Americans die from carbon monoxide poisoning.
If you are burning any fuel, make sure the room/area is well ventilated. Not only does it reduce the risk of fire damage at your place, but you also keep carbon monoxide poisoning to a minimum.
General Guidelines
When the storm hits, remember that safety is the priority – even if you have a job to get to. Employers understand and will give employees the slack they need to protect themselves and their families. General guidelines to follow include:
Stay inside.
Walk slowly and carefully.
Do not overexert. You don't need to be tired during the cold. The prevalence of heart attacks during the winter season is higher because of overexertion.
Keep dry.
Drive, if you really must go out. Avoid walking.
Call home restoration experts if you have frozen pipes.
Conserve fuel.
Head to a designated shelter if there is power loss.
After the Storm
Once the storm is over, analyze your surroundings to see any damage that needs your attention. Restock the emergency supplies you needed and make a point of also keeping things that you felt you needed this time around. The storm is over, but it will return next year!
If you find any damage after the storm, give commercial or home restoration services immediately. 911 Restoration is ready to help you recover from the damage, even during the Dallas record-breaking winter storms. If you would like to learn more about how we work or how we can help you, call us today!