How to Prevent & Repair Leaks in Commercial Buildings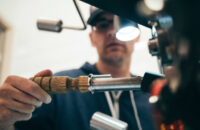 Preventing water intrusion, moisture, and high humidity in the building is critical to avoiding mold growth in your commercial setting. On the other hand, a plumber should be your first person of contact in the event of a water leak. Being especially careful in a few key areas might have a significant impact. Mold can begin to grow as soon as a few hours after the water has been absorbed by carpets, furnishings, walls, or other things in a building. Mold formation is a threat in your home if you do not regularly monitor humidity levels.
The possibility of hearing water dripping in the building, noting constant leaking that has caused a puddle on the ground, or discovering a new moisture spot on the wall is something we are all concerned about at this point. It's a sign that there's a leak in the system. If water is left on a building's floors or walls for a lengthy period, the resulting humidity offers an excellent environment for mold growth.
How to Prevent and Repair Leaks?
Maintaining control over moisture can assist you in keeping mold away from your house; according to the Environmental Protection Agency, the most common cause of mold formation is an HVAC system. According to the Environmental Protection Agency, mold has far more devastating consequences indoors than outside. Aside from that, the levels of interior space pollution are more relevant in particular circumstances. It is the most serious problem since it has the potential to compromise the cleanliness of the air in your home.
Mold may develop in a variety of water accumulation situations, including:
Crawlspaces

Bathrooms

Kitchens

Basements
Here are some plumbing tips to help you on your journey. Consult with your plumber about any further recommendations that may be appropriate based on the mold problem in your home.
     1. Repair the Leakage
The reality is that moisture will tend to build if a leak is not repaired correctly. If the water leak is not thoroughly dried or cleaned, it can eventually lead to mold growth on the wall and in other areas of your home or business. You can also contact a professional in South Dallas to repair the leak and water damage.
It is necessary to examine the area often for several days after the leak has been identified and repaired. If you notice signs of water coming back into your home, call your plumber immediately since there may be another leak or other drainage issues. It's also essential to check for any musty scents since this might suggest that mold is growing, and you need to figure out what's causing it.
     2.Remove the Excess Water
Remove the water supply valve from the property and start mopping up all excess water as soon as possible. Turn on a sump pump device or use a wet cloth to wipe away the water leak. The goal is to dry up the area as much as possible as quickly as possible.
     3.Increase the Air Circulation
One of the primary reasons mold arises in moist areas is a lack of enough cross ventilation, which prevents the area from drying out entirely. Try all you can to increase airflow in the area where the leak is situated if at all possible. It will enable the surface to dry out and help avoid the growth of mold.
Most people use fans or heaters to lower humidity levels, particularly in bedrooms and other areas that are often sealed up. In addition, the basement of a building tends to gather moisture; as a result, you may want to look into alternative options for drying out the area, such as our following technique.
      4.Use a Dehumidifier
If increasing airflow is either impossible or just partially achievable, install a dehumidifier in your home or office. Using a dehumidifier system, you may remove humidity from the air and store it, which will allow the space to dry faster. It is essential to empty the dehumidifier regularly to avoid it from leaking. Furthermore, utilize the dehumidifier to guarantee that everything is completely dried out to prevent mold formation once the project is complete.
There are many various forms of drying devices on the market, and you can choose one that is most efficient for your bedroom based on the extent of the space you have available. If you are still unclear about which dehumidifier would be the best choice for you, consult with an expert for assistance!
       5.Repair the Affected Areas
As soon as the professional has fixed the leak and removed the water, your structural components are no longer in danger of being compromised. This is especially true when it comes to drywall. It would be best to consider removing the damaged drywall and replacing it with new material. It can aid in preventing mold growth, particularly if the drywall gets exposed to moisture for an extended period.
When repairing or restoring damaged products, consider using mold-resistant new components. As a result, it will help to reduce the probability of mold developing in the area where the leaking occurred. If you have a water leak, call a professional mold restoration company and follow these steps to reduce the likelihood of mold spreading throughout your house.
The Bottom Line
The interior air quality of your workplace or property may be the least of your problems once the water has been cleaned and dried. Choosing not to eradicate dirty things and maintain proper humidity and moisture management, on the other hand, may result in significant long-term possible health consequences. Bacterial spores, such as bacteria, viruses, and mold, thrive in high moisture content and moist items. It can transmit sickness, trigger allergic reactions, and damage objects.
911 restoration of South Dallas recommends that properties that have been severely harmed by significant water leaks be examined for structural soundness and then restored. We have trained mold removal technicians all around the country; contact us right immediately to begin the process of returning your property to its pre-loss condition as quickly and efficiently as possible.